Welcome to Maui!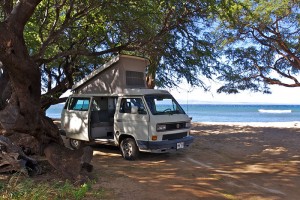 We know why you're visiting our site. You're coming to visit Hawaii and you want a unique trip. You're a traveler, not a tourist. While others might be happy with a totally planned, predictable resort experience, you prefer to make your own experiences. We totally understand… we're just like you.
Hawaii is a very special place, and Maui is our favorite island. The island is surrounded by clear blue water at a perfect temperature for snorkeling. The reefs are filed with an amazing variety of tropical fish and sea turtles. Humpback whales flock the Maui waters for half of the year, and it's not unusual to spot dolphins from the shore. Tropical flowers bloom year-round. Shouldn't you have a vacation as special as Maui?
Who wants to wake up to the sound of an maid's cart when you can wake to the sounds of waves on the beach? Why listen to the whine of air conditioning when you can feel the gentle trade winds right in bed? Why take a tour bus to the beach when you can drive your own bus and watch the sun set while cooking dinner?
If you want to experience Maui on a more intimate level, with the freedom to go where you want, when you want, then Maui Camper Rental has the answer. With camper options starting from $89 per day, you can have your wheels and bed all in the same place!
But don't just take our word for it.

 Read what our customers have to say!
We Rent Freedom …
The WESTY: It's called a VW Vanagon Westfalia Camper. It's got the character of the hippy buses of the 1960's, just with a modern design and the amenities you would expect in a full-sized recreational vehicle (RV). It's small, so you can navigate the 600 hair-pin turns and 54 one-lane bridges of the Road to Hana with ease. The Westy has a pop-up tent with two double bunks, includes a kitchenette with a sink and burners, and comes with all the camping equipment you need. See the list of what's included. Since many locals drive VW campers, you'll blend in on island roads. Maybe you'll even make new local friends! Pricing starting from $119 per day (based on season). We have automatic and manual transmissions to choose from. These book up fast, so don't delay.
Camping-Equipped ELEMENT: A new-comer to our fleet is the Honda Element. Designed with explorers in mind, the Element is in a class of its own. Able to climb to the top of Haleakala or cruise the coastline with ease. It sports a large cab with comfortable air conditioning, it's a great alternative to a standard rental car. Our Honda Elements come equipped with a 4-person tent, table, chairs, stove, sleeping bags, pillows and more. This is the perfect option for a camping couple that likes to travel light. We know Maui and have equipped this vehicle to have everything you need to have a memorable camping vacation. Pricing starting at $89 per day including all of the camping gear you'll need. Save money and time by leaving your gear at home and using this perfect camping option.
Best of all, all of our campers are economical. Maui is one of the most expensive resort destinations worldwide, but for less than the price of a "garden view" resort room, you'll get a place to stay and a rental car to explore on your own. Our Westfalia start at $119 per night and the Element at $89 (based on season).
You'll save time by staying where you like each night instead of having to return to your hotel room. Discover areas that aren't in guide books and take the roads less traveled for an adventurous vacation!
Enjoy our web site. If you have any unanswered questions, feel free to drop us a line. When you're ready, make your reservation request online.
Aloha!