Maui island is No Ka Oi (the best) in Hawai'i for a camping adventure, especially in a campervan! The campsites are scattered along the beautiful coastline, facilities are convenient and comfortable, and the people are friendly and welcoming. There is a tradition of respect for the 'aina (land) in Hawaii that we request every guest adhere to: that is simply respect the 'aina, and leave the area cleaner than you found it! This way, we all do our part to keep Maui beautiful for years to come.
Maui features a number of public and private campsites that are easily accessible for your VW camper-van. These are all located along the coastline with breathtaking sceneries, and offer stunning premium ocean front views! The only difficulty will be to make a choice…
To help you organize your trip, we have summarized the fully legal camping options below with details on location, facilities, rates, and procedure to obtain a permit (prices range from $5-30 per night for couples). Permits can be obtained once you arrive on Maui, but for certain times of the year, we recommend you arrange them in advance.
Even-though we stay on top of the most current information, the below details are subject to change without notice. Please contact the applicable local office for current information. Our Westies are better suited for elevations below 5000′ feet, so we ask that you remain under that elevation.
East Maui & Hana
Camp Keanae YMCA, Keanae
Camp Keanae is located on Hana Hwy, about halfway to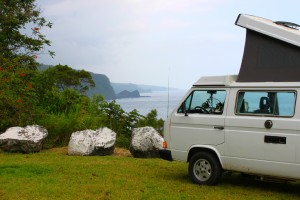 Hana. It is nestled along the rugged North Shore coastline and offers breathtaking views of the sea cliffs and rough waters below. There is an expansive grassy area where you can park your van and enjoy the views.
Facilities: hot showers, toilets, sinks, drinking water, fire pits.
Camping information: Open daily. Reservations are required. Call in advance as they often sell out with group events, especially during school holidays, and cell reception is spotty in the area. Camping fee is $20 per person per night, $35 for families (2 or more).
+1 (808) 248-8355 – www.ymcacampkeanae.org
Waianapanapa State Park, Hana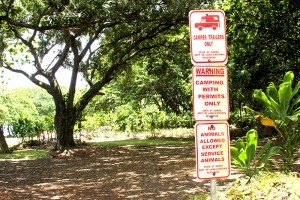 Waianapanapa is located by the ocean, about half a mile off the Hana Hwy 360, right before Hana. It features a blowhole, a black sand beach, a lava tube, a short hike to magical freshwater caves, and access to part of the King's Trail along the sea cliffs–definitely a place you want to spend a few hours at, even if you don't stay overnight.
Facilities: picnic tables, grills, restrooms, outdoor showers, drinking water.
Camping information: Open daily. Reservations are required, and can be arranged by phone or online (below). Do not wait until you get there as there is no cell reception. The ranger on duty will come to your campervan to verify your permit–it is strictly enforced.
Camping fee is $18 per campsite per night for up to 6 persons & $3 per night for each additional person, with a maximum fee per site of $30/night. Children up to 2 years of age are free. ($12 for Hawaii residents with valid ID).
+1 (808) 984-8109 – camping.ehawaii.gov/camping
Kipahulu Campground, Haleakala National Park Kipahulu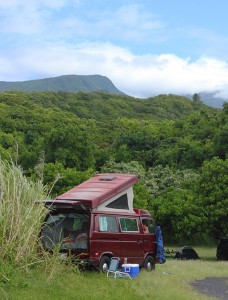 The Kipahulu Campground is 10 miles past Hana, near the pools at 'Ohe'o (Seven Sacred Pools), within the Haleakala National Park. It overlooks ocean cliffs, facing sunrise, and is a prime spot to start the Pipiwai Trail hike (free guided hikes on Sunday mornings).
Facilities: Picnic tables, grills, pit toilets. No water supply available at the campground. Water fountains and toilets available at the Kipahulu Visitor Center, just a short walk away.
Camping information: Open daily. No reservation required.
Camping fee is included in the park entrance ticket, $25 per vehicle, valid for 3 days (keep your receipt). If the ranger station is closed upon arrival, you may pay on your way out.
+1 (808) 248-7375 – www.nps.gov/hale/planyourvisit/kipahulu.htm
CENTRAL & WEST MAUI
Kanaha County Beach Park, Kahului
Kahana Beach Park is a located on 40 acres of white sand beaches surrounded by trees, popular for kite surfing and canoeing near the airport in Central Maui. There are 4 different entrances and parking lots.
Facilities: restrooms, outdoor showers, water taps, grills, picnic tables, volleyball nets.
Camping information: Closed Monday and Tuesday for maintenance. Permit required. Camping fee is $5 per person on week days and $8 per person on weekends ($2 and $3 for minors).
+1 (808) 661-4685 –   www.co.maui.hi.us
Papalaua Wayside County Beach Park, Olowalu
Papalaua Beach Park lies along Honoapiilani Hwy # 30 on the way to Lahaina, a few minutes past Ma'alaea Harbor, along a sandy beach with excellent snorkeling. There are shady parking spots under kiawe trees.
Facilities: portable toilets, grills, picnic tables. No water supply available.
Camping information: Closed Wednesday and Thursday for maintenance. Permit required. Camping fee is $5 per person per night on week days, $8 on weekends and holidays ($2 and $3 for minors).
+1 (808) 661-4685 –  www.co.maui.hi.us
Camp Olowalu, Olowalu
Camp Olowalu is a private campsite located right on the ocean off Honoapiilani Hwy # 30 about 6 miles south of Lahaina. It is one of the best snorkeling areas on the island, and a good launch spot for a kayak, paddle board, or canoe trip.
Facilities: enclosed cold water showers, outdoor showers, sink, portable toilets, picnic tables, grills, Wi-Fi, laundry.
Camping information: Open Daily 7AM-7PM. After hours check-in available (instructions at the check-in window). Campsites are first come first served, no reservations. Camping fee is $20 per person per night, $5 for children 6-12, and free for children ages 5 and younger.
+1 (808) 661-4303 – www.campolowalu.com
Daytime Camping
 Baldwin Beach Park, Paia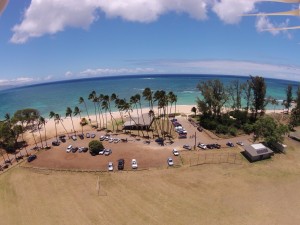 Baldwin Beach Park is conveniently located right off the Hana Hwy just before entering the quaint town of Paia. Overnight camping is not allowed anymore at Baldwin, however this beach park is the perfect place to people-watch the North Shore colorful crowd on any day of the week. There's also plenty of shade for a nap on the far right side of the beach, and it's ideal for a long stroll along the water.
Facilities: outdoor showers, restrooms, life guards, picnic pavilion, large grass sports field, and old monastery trails.



Maui offers these fantastic private campgrounds in Hana, Northshore, Haleakala and more!